Recommended Reading Gift Guide Part 2
At last! Part two of the bookish gift guide thrown together from a random and totally unscientific collection of lovely people I know recommending books they'd love to give or get for the holidays. It's mainly writer types this time round and a comic artist of great genius.
And still in time for your Christmas shopping if you've left that to the very last minute like I have.
Organised in alphabetical order by first name, because that worked for part 1.
Please feel free to jump in with your own best gifts to give or lust-haves.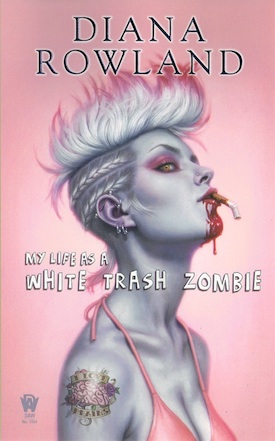 Adam Christopher is a New Zealand-born SF writer based in England; his debut novel, a wonderful, dark, stylish retro superhero noir that I absolutely loved, Empire State is out in January 2012.
This year has been so great for genre fiction, but there's one book I fell in love with which is perfect holiday reading: My Life as a White Trash Zombie, by Diana Rowland. I'm sick to death of zombies, but here Rowland offers a unique take – it's fun, but not funny; fast, but not throwaway; highly original, but with enough to keep traditional zombie fans happy. It's also wrapped in the most gorgeous cover art ever.
***
Aliette de Bodard lives and works in Paris, where she has a job as a Computer Engineer. In her spare time, she writes speculative fiction: she is the author of  Obsidian and Blood trilogy of Aztec noir fantasies, and her short fiction has been nominated for a Hugo, Nebula and won the British Science Fiction Association Award.
My suggestion would be Elizabeth Bear's The White City. It's a novella that follows her vampire Sebastian da Ulhoa in Moscow, and it's a brilliant use of familiar tropes (vampires and their human courts, except set in terms of power/love relationships, and with very fluid sexual identities) set in a slightly-less familiar city (Moscow in the 19th Century). It can also be enjoyed without having read the previous volumes New Amsterdam and Seven for a Secret, though both of these are well worth picking up, too.
***
Charlie Stross' latest is Rule 34, a smart, fantastic romp of a technothriller through the Internet's (very) dark places. 
I'd like to get everyone reading The Magicians and sequel, The Magician King by Lev Grossman. (The third in the trilogy is due some time soon; I can't wait.) In outward form The Magicians is a mashup of Harry Potter and Narnia – two staples of childhood fantasy literature — but in substance it's infinitely superior to either of them, a very adult examination of the simultaneous corrosive effects of alienation and privilege on a young man's soul (with a sting in the tail for anyone who has ever secretly fantasized about being destined to rule over a magical kingdom). Chewy, disturbing, and not kids' stuff, not by a very long way.
***
Chuck Wendig is the author of Blackbirds and Double Dead, one of the screenwriters behind HiM, and my favourite dispenser of hilarious and profane and totally spot-on writing advice over at terribleminds.com.
Boy's Life by Robert McCammon. Boy's Life made me want to be a writer — actually, you know what? It made me want to be a storyteller. McCammon weaves a killer coming of age tale that opens up its heart and pours out all the terror and majesty found in the power of stories. Plus, c'mon, it has old Nazis and river monsters. If I could give everyone I know a copy of this book, I totally would.
***
Henrietta Rose-Innes is the Cape-Town based author of several novels including, most recently,  Nineveh (one of my favourite gifts-to-give at the moment, "a cautionary and penetrating passage into the dark heart of a postcard city").  
David Southwood's evocative photographs of flea-market traders and their stalls, taken over ten years, are gathered together in Milnerton Market. With texts by Ivan Vladislavic and others, this would make a really handsome gift for anyone interested in photography, literature, peri-urban culture and almost-complete second-hand teaspoon sets.
 ***
Ian Tregillis is the author of Bitter Seeds, about British warlocks vs Nazi X-Men, and the forthcoming sequel, The Coldest War. 
When I thought back over the books I read in the past year or so, one that jumped out at me was At Home: A Short History of Private Life by Bill Bryson.  The premise is deceptively simple: a room-by-room exploration of the history of a Victorian country parsonage (the author's own home, in fact).  And yet what follows is downright fascinating, full of information ranging from the treatment of household servants in Victorian England to the construction of the Eiffel Tower.  I devoured this, and will again someday soon
***
A. Igoni Barrett is the author of the short story collection,  From Caves of Rotten Teeth. His second book is forthcoming from Graywolf Press and Chatto & Windus in 2013. For more recommended reading from Africa, check out a similar list he put together for The Guardian Nigeria of  African authors talking up their books of the year.
I have read every book by Gabriel García Márquez that I've come across, and read each more than once. Except his memoir, Living to Tell the Tale, which I borrowed, started reading, and stopped, sacrilegiously bored. Memoirs do that to me every time. Until this year, when I opened Binyavanga Wainaina's memoir, One Day I Will Write About This Place, and found myself dragged oohing and ahhing all the way to the end by language that was nothing short of immorally dazzling. I turned the last page of this gorgeous book with sadness that the journey had ended, but also with the happy knowledge that for many years to come I will return again and again to it.
***
Inaki Miranda is a comics artist extraordinaire who has worked on Fables, Tribes and Judge Dredd, among other big comics. I've been incredibly lucky to be partnered with him for the arc of Fairest that I'm writing for Vertigo.  He turns the words into more than I could have imagined  (and only teases me a little about my ignorance of perspective in describing impossible scenes that he's supposed to try to draw). 
My Sweet-Orange Tree by Jose Mauro De Vasconcelos, considered one of the most important books from Brazilian literature, about a five year old kid growing up poor. It's a real intense read. I believe it will require a Christmas miracle to get your hands on an English edition of this gem…  but it's truly one of the finest presents you can give to somebody (child or adult alike).
***
Capetonian Jenna Bass writes, makes films and publishes the frankly awesome African pulp fiction magazine Jungle Jim. 
Every Night the Trees Disappear: Werner Herzog and the Making of Heart of Glass by Alan Greenberg. Being the Herzog disciple I am, I will read/watch/listen to/generally absorb anything that the maestro has to offer – but the fact that this book is a brand new-reissue for 2012, and charts the production of Herzog's alchemical combination of cinema and hypnosis (he hypnotized his actors!) means I will gladly wait till next year to receive my Christmas present.
***
J. Robert King has 24 published novels in fantasy, science fiction, mystery, and horror. He's a man of wild and wonderful ideas and also makes a very fetching Juliet in his theatre company's performances of Shakespeare's most tragic rom-dram. 
The book I'm hoping to get this Christmas is The Immortal Life of Henrietta Lacks, the true story of a woman who died of cancer at the age of 31 but whose cells live on and are the foundation of the most biomedical advances of our time: HeLa cells.
***
Kaaron Warren is an Australian writer with three novels, three short story collections and another collection on the way. I love Kaaron for her sheer versatility from writing serial killer thrillers to wonderfully grotesque short stories and whimiscal novels about magic and storytelling.
Kim Westwood's The Courier's New Bicycle is an amazing novel, one I'll be handing out as gifts this Christmas. Westwood depicts a Melbourne at once familiar, yet distressingly different.  It's a gentle, futuristic thriller, exploring the nature and perception of perfection, sexuality and constraint. For more post apocalyptic Melbourne reading, try the classic On The Beach, by Neville Shute. Little known fact: my dad rode a bike as an extra in the movie.
Kathryn White is the author of the strange and whimsical Emily Green & Me and Things I Thought I Knew (which got recommended twice! in the last batch of this gift guide). She works in advertising by day and does awesome side projects from comics to pop-up restaurants. 
I highly recommend a Kindle as a Christmas present. Not only is the reading experience entirely pleasurable, but saving trees is a worthy cause. On the Kindle I would load Ernest Hemingway's The Garden of Eden. It's set in the twenties and about a wealthy couple having an extended honeymoon along the Mediterranean coast. The book was published posthumously and criticised for being heavily edited, but it is by far my favourite Hemingway and puts many of today's best writers to shame.
***
Lavie Tidhar has lived all over the world and is insane in the best possible and most entertaining way. His books from the lit steampunk trilogy he's doing for Angry Robot through to his post-911 mystery, Osama are smart and strange. He also runs the WorldSF blog together with Charles A Tan, digging up cool books and authors from the wider world. (South Africans might be especially interested in his vicious Eugene Terreblanche-inspired short story at the Pseudopod podcast)
The book I'd go with is Ekaterina Sedia's The Secret History of Moscow, which many many more people should read. It's a beautiful urban fantasy steeped in Russian folklore, wonderfully written and utterly unique. It's also a lot of fun!
***
Matt Forbeck is a game designer and author of  the kickass cyber thriller, Amortals, about a murdered secret agent brought back to hunt his killer, and the upcoming historical horror, Carpathia which imagines the survivors of the Titanic hoisted from the sea by a ship rife with vampires. Horrible and awesome. 
One book I recommend for Christmas is Return of the Dapper Men, a wonderful modern fairy tale in graphic novel format, by my friends by Jim McCann and Janet Lee. It's one of those stories you can love at any age, and the artwork is both stunning and fun.
***
Mur Lafferty is a podcast pioneer, author, and columnist. She's responsible for the I Should Be Writing podcast, the novel Playing For Keeps, and The Afterlife Series.   She's also a great Con roommate and totally didn't try to murder me and steal my brainthoughts in my sleep. 
I wanted to talk about The Night Circus, but dangit, it got a huge marketing push and a lot of people are already talking about it, so: they're right, it's amazing, go read it. CHEW is a graphic novel about a man who can learn everything about anything he eats, ie, where an orange was grown, who picked it, and what kinds of pesticides were used. Or the details of where a cow- or a human- was killed. His job: private detective. There's a military-like FDA, a homicidal chicken, and both a severed ear and a severed toe serve as important plot points – in separate instances.
***
"Nechama Brodie is a journalist, writer, sometime boxer, aspiring singer and Jewish mother. She is the author of The Joburg Book and Inside Joburg and is currently working on a biography of the superstar writer Lauren Beukes." [She is SO not. Also she cheated and recommended like forty squillion books instead of one, but they're all fantastic, so I let her get away with it] 
Charles van Onselen's The Seed Is Mine. Charles van Onselen is that rare breed of academic who knows how to make history come alive. His documentation of working class South Africa – in, which is the engrossing story of a black sharecropper, and the collection of essays printed as New Babylon, New Nineveh (which was seminal to my own books) – as well as the country's criminals and rogues – like bandit king Nongoloza (The Small Matter of a Horse), white slaver and possible serial killer Joseph Silver (The Fox and the Flies), and Irish bandits (Masked Raiders) – are beautifully crafted, often tragic stories of the migrants and immigrants whose own lives tell the story of our country's.
Antony Altbeker's Fruit of a Poisoned Tree. This is going on the list of Books I have to Read before 2012 – I've always thought Altbeker, a former (I think?) researcher with the Institute for Security Studies, offered a fresh, clear look at how crime really worked in South Africa. His earlier book A Country At War With Itself is a must-read for every South African who wants to, who chooses to stay – because a friend of mine, David Bruce, said it was the best thing he'd read all year. Bruce was a conscientious objector who was jailed in the 80s for refusing to do his service, and he's spent years working on studies of violence and reconciliation in South Africa. Fruit of a Poisoned Tree sounds like a brilliant true crime report that relies on intellect and insight rather than sensation.
Ingrid Jonker's Black Butterflies. Like Plath, I only started reading Jonker's poetry in my thirties. I am glad for this – because there's a melancholy and resonance I don't think I would have gotten had I read them earlier. If you can't read Jonker in her original Afrikaans (which is transcendent), then this translation by Brink and krog must, surely, be as close as dammit.
***
  [Gerard's unique take on foxhunting does not sit well with his English hosts]
Nick Harkaway is the author of The Gone-Away World. His new novel, Angelmaker, will be released in early 2012, followed by his first non-fiction, The Blind Giant. He lives in London with his wife and daughter, and really needs a holiday.
When you mention Conan Doyle, everyone – but everyone – thinks about Sherlock Holmes. I love Holmes, but don't miss out on Doyle's other stuff: Gerard, Challenger, Sharkey… he was a great storyteller, and sometimes these superb stories get neglected. Yes, of course, he's a man of his time, with the occasionally irritating preconceived ideas, but don't let that stop you: Conan Doyle was doing rip-roaring adventure before ever Ian Fleming put pen to paper. And he writes like a dream. When I was a kid, our Christmas wasn't complete with a reading from one of these books…
***
Patrick Ness has some kind of tap into the spine of what makes us human and extracts beautiful, devastating and profound stories from it, ostensibly for teens. He's won the Costa prize and the Carnegie medal for his Chaos Walking series and A Monster Calls, based on an idea by Siobhan Dowd, who died of breast cancer. He also runs marathons for breast cancer. 
Books-as-gifts are awkward for me, both giving and getting. They feel so personal, that to give someone a book I love and then (maybe) not have them love it back would possibly cause me to silenty judge them in ways fatal to friendship. My weakness, not theirs (maybe). So what I do love to give is something delightful that wouldn't normally enter their view. This year my best gift to give is I Want My Hat Back by Jon Klassen. Yes, a picture book, and yes, it's genius. Read it, you'll see (or I'll silently judge you).
As for  a book to recieve, I'm a nightmare as I've probably already bought it. For example, I wanted volume 2 of Australians, Thomas Keneally's new, ongoing epic history of the country. I couldn't even wait for it to be published in the UK, so I ordered it directly from Australia, at an eye-watering cost. So, for me, best gift? Book tokens. My favourite gift ever.
***
PD Smith is the author of four non-fics, including Doomsday Men, the terrifyingly real cultural history of superweapons and doctor strangeloves. His new book, City, out in 2012, is about the intriguing ecosystems of man-made spaces, but you can get some sneak previews of the kind of content on his wonderful blog and twitter stream.
The book I would like to give some lucky person this Christmas is a classic study of cities and city life – The Death and Life of Great American Cities, by Jane Jacobs. This year is the fiftieth anniversary of its publication in 1961, but Jacobs' insights into what she memorably called "the sidewalk ballet" of urban street life remain fresh and vital, even in the age of the megacity.
***
Richard Kadrey is the author of the Sandman Slim series, Butcher Bird, Metrophage and the graphic novel Accelerate. He's also a photographer working under the name Kaos Beauty Klinik. What he won't tell you  is that before his 20 year overnight success (read that, seriously), his career ranged from carjacking to writing episodes of The Smurfs. 
Holly Black is always a pleasure to read, and I say that as someone so far out of her core Young Adult demographic that I'm probably on an FBI watch list just for writing her name. Red Glove is the second book in her Curse Workers series. It expands and twists ideas laid out in the first book, White Cat, upping the stakes and the human pleasures and pains at the core of all good stories.
***
Sarah Lotz is seriously prolific. She writes under her own name (legal thrillers and a semi-autobiographical novel about teens living homeless on the streets of Paris), she writes terrifying and smart horror together with Louis Greenberg as SL Grey and kick-ass zombie apocalypse in Cape Town YA with her 19 year old daughter, Savannah, as Lily Herne.
I'm far too greedy to pick just one book,( I can't decide between Nineveh, A Monster Calls, The Sisters Brothers, or The Song of Ice and Fire) so I'm going to recommend an entire series. Just about everything Modjadji puts out is absolutely brilliant. It's an all-female writers imprint run by one-woman dynamo Colleen Higgs featuring new and established poets, novelists and short story writers. Start with Reclaiming the L Word, which my teen daughter and sometime collaborator absolutely loved, and work your way through from there.
***
 Siphiwo Mahala writes in English and isiXhosa. His latest book, African Delights, is described by The Times as "entertaining and thought provoking."  He's also a huge advocate of South African literature through various government initiatives and actually manages to get books mentioned in parliament. 
I've just finished reading Deon Meyer's riveting crime novel, Thirteen Hours, and am now tracking his other works. Seeing that I am broke after buying so many South African books, I'd vote for anybody who can buy me Meyer's latest bestselling thriller, Trackers, for a Christmas gift. I like high-paced writing that captivates you so much that as a reader you also become part of the story.
Anybody who hasn't read Zakes Mda's Sometimes There is a Void should run to the nearest book store and get a copy. The book is quite thick and intimidating, but once you start reading it, you wish it wouldn't end. It's a poignant and witty portrayal of one man's life, but it is also a story that most of us can relate to. It's a clear demonstration why Mda is a master storyteller.
***
Warren Ellis is writing Gun Machine for Mulholland Books.  He's also written some comics.  The film Red was based on one of them.  He is mostly tired. 
Given that it's the holidays, I wouldn't necessarily recommend Charlie Huston's astonishing, ruthless Sleepless, or perhaps even Jean-Christophe Valtat's stoned steampunk dream Aurororama.  Instead, I would direct you to Rob Young's magnificent Electric Eden: Unearthing Britain's Visionary Music.  It feels almost like an expanded novelisation of one of those brilliant BBC music documentaries, taking a subject you may have little or no interest in — in this case, the evolution of folk music in Britain across the 20th Century, something I find kind of hard to listen to in most cases — and making its exploration absolutely vivid and riveting.  It's a music history and a mythography of old imagined Albion, beautifully written and utterly fascinating.
***
William Gibson is one of my all-time favourite authors, although I came to him late with Pattern Recognition and the Bigend trilogy. His books twang the nerve of the world right now and the most disturbing/wonderful/wonderful and disturbing things in them are real. His collection of essays, Distrust That Particular Flavor is out early next year. 
Nothing I've read lately has been published yet, so I'd opt for giving a gift card for Nick Harkaway's wonderful Angelmaker, a huge and hugely enjoyable cross-genre novel that I would be hard-pressed to describe. Though someone else might get a gift card for Mark Leyner's splendidly peculiar (and very funny) The Sugar Frosted Nutsack. Both due fairly early in the new year.
***