Recommended Reading Gift Guide Part 1
I'm not a very imaginative gift-giver. I give books. Most precious commodity, I reckon, way better than frankincense or myrrh (Wise? Really? And not a single book? Pssht.)
This year, I figured I'd ask interesting friends what books they'd like to give or get for the holiday season in the wholly selfish interests of hearing about cool stuff I wouldn't have found on my own – and also providing a handy gift-guide for the season.
It's thrown together, from a list of cool people who sprung to mind, and there are tons of people I've left out accidentally or who didn't have time to contribute. (Feel free to chip in with your own recommendations in the comments.)
But here are some top notch pithy recommendations from some stellar people – novelists, designers, journos and activists from South Africa, the UK, US and Barbados. You should check out their work too.
In alphabetical order, by first name, cos that seemed as good a method as any:
* * *
Anne Perry is one half of Pornokitsch, the review site that elevates the tone of geek culture with smart critiques and a kick-ass best-novel award, The Kitschies.
The book I'll be giving out for the holidays this year is SelfMadeHero's Don Quixote, vol. 1. It's a glorious, gorgeous comic book adaptation of Don Quixote, faithful both to the letter and the spirit of the original and boasting gorgeous art. It's sweet and funny and a joy to read, and I can't recommend it highly enough.
* * *
Charl Blignaut is the bestest tweeter in the world at @sa_poptart, but he's also a brilliant journalist and is writing a new book, Oh My God! A history of South African pop culture.
Whoever borrowed my copy of Trickster Makes This World: Mischief, Myth, and Art by Lewis Hyde  (1998) is welcome to give it back to me for Christmas, but I understand if they don't. It's a timely reminder of how art's disruptive imaginings can upset the status quo.
"What is a sermon that surpasses the teaching of the Buddha and the Patriarchs?" Yün-men was asked."Cake!" he replied.
* * *
Young South African writer Charlie Human's wonderfully warped debut novel, Apocalypse Now Now, is being polished for publishers, but in the meantime, you can read his short story in Pandemonium: Stories of the Apocalypse or check out the trailer for the short film based on one of his tales.
I'd recommend Richard Kadrey's Sandman Slim series. Because a story about a half-angel assassin who escapes from hell to wreak chaos and vengeance seems to have been written especially for me. Total dementertainment.
* * *
Deon Meyer is a best-selling South African thriller writer extraordinaire who is making waves overseas, and also a really generous, sweet and modest guy.
In brief, there is only one book to buy or give this Christmas: The absolutely mesmerising Cruel Crazy Beautiful World by the red-hot South African talent Troy Blacklaws.
* * *
Diane Awerbuck won the Commonwealth Writer's Prize: Africa for her debut novel, but her book of eloquent and moving stories of trauma, "Cabin Fever" is even better. She recommends:

Thando Mgqolozana's "Hear Me Alone" is smarter than you are. Read it this Christmas for an African spin on the Virgin Birth.
* * *
Emma Cook is a Cape Town illustrator and Internet addict.
My awesome stocking filler recommend is Eish, but is it English? By Rajend Mesthrie and Jeanne Hromnik. Slang and colloquialisms are the ultimate in nerdy memes and it's a great resource on Seffrican colloquialisms and their origins.
* * *
Fiona Snyckers is the author of the rollicking Jozi chic-lit Trinity series, published by Jonathan Ball. www.fionasnyckers.com
"The book I'm going to be stuffing into everyone's stocking this year is "Things I Thought I Knew" by Kathryn White. It's one of the most lyrical and memorable works of fiction I've read recently. White has the uncanny ability to tilt the world on its axis and force her reader to look at it anew. The things we think we know crumble at her touch."
* * *
Jared Shurin is the other half of Pornokitsch and is horrified by the very concept of Parktown Prawns. He also totally cheated on this and recommended not-a-book AND a book-as-backup.
BANG! is a card game based on spaghetti Westerns. You pick a ridiculous character and then shoot everyone else around the table. It takes two minutes to learn, making it our go-to icebreaker for cons and parties. We've played this game nigh on a billion times, inflicting it on everyone we know. The cards are getting frazzled and we've even invented our own high-octane drinking variant. It's what Clint would do.
(Fallback:)
I don't think you can go wrong with a book from Hard Case Crime – they specialise in discovering new noir authors and resurrecting lost masterpieces. For the comic touch, try something like The Corpse Wore Pasties or Zero Cool. For something a bit more serious, Donald Westlake's Memory or Lawrence Bloch's Killing Castro. Even if the recipient never reads the book, they can ogle the cover for a while.
* * *
Award-winning illustrator & über-geek, Joey Hi-Fi, is an awesome friend AND awesomely talented and very funny and cool on Twitter.
The one book i'd love to read this Xmas would be Empire State by Adam Christopher. Hard-boiled detectives meet pulp superheroes in this dream like pulp noir set in a twisted parallel prohibition-era New York. Murder, Mystery, Steampunk superheroes and multi dimensional conspiracies. What's not to love?
* * *
Barbadian writer Karen Lord was a finalist for the 2011 World Fantasy Award for her debut novel Redemption in Indigo. (She also has the coolest red leather jacket on earth, which I covet quite a lot.)
I've been recommending, lending or giving Terry Pratchett's Discworld books to friends for years, and they remain my favourite reads for any holiday. The trick is finding the right gateway book to help new readers slip into the stream of the larger story. Both Hogfather and Wintersmith go down better with some prior knowledge of the characters, and winter isn't very relevant in the tropics. Wyrd Sisters feels more appropriate to the season with its end-of-term atmosphere: pageantry on stage, the mangled Macbeth, destiny and responsibility, lots of random humour and that trio of witches who remind me so much of my old teachers and school friends.
* * *
Louis Greenberg is a fiction editor and writer from Johannesburg, and half of horror writer S.L. Grey.
The only book on my Christmas list is The Loss Library by Ivan Vladislavic. In it Vladislavic, the master craftsman of South African writing, examines eleven of his own lost fictions, how the ideas arose and why he abandoned them. It promises to be nutritious fodder for both the writer and reader in me.
* * *
Meredith Yayanos is a nomadic musician, writer, and the Editor in Chief of Coilhouse Magazine & Blog: A Love Letter to Alternative Culture
A thick and mythic tome of darkly brilliant yarns, Burning Your Boats by Angela Carter has been my go-to holiday gift for more adventurous chums ever since it was first published in 1995 (not long after her untimely death). Carter was a ferociously intelligent, playfully perverse storyteller who delighted in taking the Grimmest of tales and turning them inside out. This career-spanning collection is bristling with feral children and vampires, scary woods and strange wolves, Victorian axe murderesses and forbidden rooms and cold brides and hot jazz and accursed princes and vengeful mothers; there's true love and sadism and celibacy, blood and sex and death, all wrought in Carter's signature baroque mix of highbrow and low-rent. It's keenly self-aware Gothic melodrama, kept interesting by Carter's wry humor, worldliness, and firebrand feminism. She was fearless, and these stories are magical realist perfection, best read aloud by firelight to kindred spirits on a cold winter's night.
* * *
Murray Hunter is a coordinator of the Right2Know campaign, a coalition of organisations and individuals fighting draconian clauses in the Secrecy Bill and other threats to the free flow of information. (Disclosure: One of the authors, Hennie van Vuuren, is closely involved in the R2K.)
All I want this Christmas is for everyone to read this new book, Devil in the Detail: How the Arms Deal Changed Everything by Paul Holden & Hennie van Vuuren that blows the lid off the arms deal like a well-aimed missile from an over-priced fighter jet. Meticulously researched, remarkably dispassionate, Devil in the Detail is a blow-by-blow expose of the scandals within the scandal, bringing to light new evidence of how international arms traders corrupted the new South Africa.
Following trails of dirty money that crisscross each deal that was struck, and unpacking all the plunder in a series of mind-blowing infographics, this book is essential reading for anyone who wants truly to understand how shit got real. There is enough new info in this book to sink a few careers and tarnish a few legacies (the authors show how the true cost of the arms deal may have actually bankrupted South Africa's developmental state ambitions, and lost a million people their jobs; they uncover new evidence of wrongdoing that implicates many more people than popularly thought; they track the rise of a 'shadow state' that has its roots in corrupt networks in the apartheid security forces and the armed struggle for liberation), and certainly enough fresh allegations that every news editor in the country should be wetting themselves.
As South Africa is in every sense still paying for the arms deal, and we can now look forward to an inquiry that may (in the right circumstances) be willing to bust the whole thing open, perhaps there are others who should be wetting themselves too.
* * *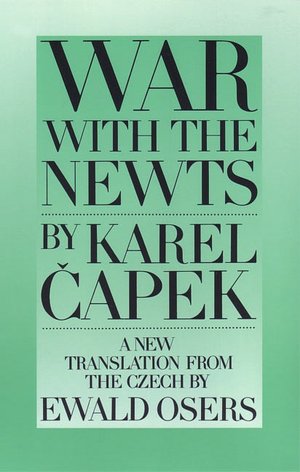 Nick Mamatas is the author of a number of novels, including SENSATION (PM Press) and with Brian Keene THE DAMNED HIGHWAY (Dark Horse).
I'd recommend War With the Newts by Karel Čapek. It's a hilarious SF satire from the 1930s that could have been written in the 2000s by David Foster Wallace. Detailing the discovery and exploitation of another intelligent species (the newts) through a series of vignettes, newspaper articles, song lyrics, commodity syndicate documents, and the conversations a doorman has with his family, War is still ahead of its time. It was pushed into my hands this year and I resisted reading it for months, but now I must do the pushing myself, onto the world.The idea of reading this book must reproduce as quickly as the newts themselves.
* * *
N. K. Jemisin's latest novel is THE KINGDOM OF GODS, final volume of the award-winning Inheritance Trilogy. Her next novel, THE KILLING MOON is coming in May 2012.
Anyone who likes well-written, exotic, definitely-not-a-Tolkien-clone fantasy should give/get The Cloud Roads by Martha Wells. Makes a great gateway gift for any science fictionistas looking to dip a toe in the fantasy side of the stream, since it's set in a completely alien world with believable ecology. And not only is the sequel, The Serpent Sea, due out in January (no waiting!), but it's got gorgeous cover art that the spec fic lovers in your life will feel proud to show off in public!
* * *
Nnedi Okorafor is the author of novels Who Fears Death (winner of the 2011 World Fantasy Award for Best Novel), Zahrah the Windseeker (winner of the Wole Soyinka Prize for Literature), The Shadow Speaker (winner of the Parallax Award) and Akata Witch (an Amazon.com Best Book of the Year). She is a professor at Chicago State University. (She confesses to have had a total fangirl moment when she met Craig Thompson in person.)
The book I can't recommend enough is Craig Thompson's Habibi. This graphic novel is a testament to the fact that the physical book should never die. Habibi is a work of art full of Arabic calligraphy, bleeding pages and detailed imagery that is both Arab and African, modern and ancient. And equally as exquisite, compelling and daring is the book's story of two slaves, one African and one Arab and how the world shapes, destroys, and evolves them. It's the best thing I've read in years.
* * *
Osiame Molefe writes news and opinion for Daily Maverick and has had short fiction published in Chew Magazine, Itch and Best New Queer African short fiction – an anthology due out in 2012. He is currently working on his first novel.
I've been pimping out Brian Christian's The Most Human Human: What Talking To Computers Teaches Us About What It Means To Be Alive to anyone who would listen. It's an effortlessly incisive blend of computer science, philosophy, language and linguistics that you don't have to be a geek to understand and appreciate. All you need be is human.
* * *
Paul Cornell is a British novelist, TV and comics writer. He's writing the Demon Knights and Saucer Country comics and his new novel, Cops and Monsters is out in October 2012.
I'd recommend Heaven's Shadow by Michael Cassutt and David S. Goyer as one of my favourite books of the year. It does a J.J.Abrams on the Arthur C. Clarke near future NASA novel, remembering that Clarke was always an 'airport novelist', talking to the mainstream. It adds character, and the modernity of a wired world looking in on the increasingly tense situation of two crews investigating a Near Earth Object. It also does Clarke's attraction to the numinous, in spades. If you miss that genre, it's back, only this book has got surprisingly little coverage in the genre press (not even a Locus review), being seen, I suspect, as 'outsiders doing SF' (only they're doing it well, and when 'big dumb object' comes with a namecheck to Rozy Kavene originating that term, you can tell they've done their homework).
* * *

Paul McAuley's latest novel is In The Mouth of The Whale; his latest e-book is Stories From The Quiet War.
As far as I'm concerned, the ideal Christmas book contains mind candy that makes you think. And I can think of no better example published this year than Frédéric Chaubin's CCCP: Cosmic Communist Constructions Photographed (Taschen), a beautiful compilation of epic photographs of Soviet Brutalist architecture: cinemas, museums, memorials, air terminals, TV towers, universities, resorts, hotels… Monuments to the Communist equivalent of the Gernsback continuum, and a way of life and thought now all but extinct, here in the twenty-first century.
* * *
Richard de Nooy writes his novels (Six Fangmarks And A Tetanus Shot and The Big Stick) in English and Dutch. You can ask him why on Twitter (@RicharddeNooy)
With Vladimir Nabokov and J.M. Coetzee, David Mitchell forms a demonic trinity who make me want to beat my keyboard to a pulp with my forehead whenever I read their work. Sadly, I received The Thousand Autumns of Jacob de Zoet as a gift and blood must flow once more.
* * *
Sam Wilson can't stop making things up. From tweet-size @genrestories to scripts for kids animated TV shows and a romping Roman comedy novel trilogy, Commedia (currently being shopped around)
A book of diagrams may sound suspiciously geeky, but I'm going to stick my neck out and say that Information Is Beautiful by David McCandless is a darned fine Christmas present. It takes a swamp of information and reorders it in ways that are clever, funny, whimsical, scary, and enlightening. The sheer number of revelations in the book and the inventive way that they're presented make this a gift that I regularly return to in amazement.
* * *
S.A. Partridge is a young adult fiction writer from South Africa who has won awards for her novels that address big issues in nuanced ways.
This year I'm hoping Father Christmas stuff's Karen Russell's debut novel Swamplandia! into my stocking. It's a haunting story set in an alligator wrestling park in Florida. I fell in love with Russell's writing after reading her short story collection St Lucy's Home for Girls Raised by Wolves.
My best gift to give would be South African writer Kathryn White's exceptionally rich and palpable Things I Thought I Knew.
* * *
Seanan McGuire writes a lot of award-winningy books, under her own name and as smart zombie thriller queen, Mira Grant. You should never, ever, ever go up against her in a live SF-triva gameshow. Trust me.
This holiday season, I'm hard-pressed to come up with a book that would be better to give or receive than Daryl Gregory's Unpossible. This is his first short story collection, and it's simply amazing, packed with concepts that will leave you thinking hard for days after you're exposed to them. The best comparison I can make is to really high-quality Tiptree; I can't recommend it enough.
* * *
Thando Mgqolozana is known for writing provocative and challenging novels that ruffle feathers including A Man Who Is Not A Man, about Xhosa circumcision rites, and his radical Biblical re-telling Hear Me Alone:
The book that stood out for me this year is the monumental writer's memoir, Sometimes there is a Void: Memories of an Outsider by Zakes Mda. I'd not waste time and limited budget during the 'festive season' by buying books for people who find the festivity of life in other things. I'd buy this one for a committed reader, ideally someone who has read this author before and wondered who the giant behind all those novels is; because in this book Zakes Mda tells us this in a heartfelt, honest manner.
* * *
Tobias Buckell is a Caribbean-born New York Times Bestselling author, whose latest novel is a speculative climate change thriller, Arctic Rising.
I just finished listening to Charles Stross's Rule 34 on audiobook. It's really rare to read good, fun near-future SF that leaves you going "oh, I see the beginnings of all that right now!." A lot of people are trying to avoid doing this, worried about how fast the book will age, but I think it's worth trying to peer around the corner (and Stross does it in Rule 34 with a great deal of panache).
* * *
Tricia Sullivan is an SF writer with a strange and wonderful mind who won the Arthur C Clarke Award in 1999 for her novel Dreaming In Smoke. She's also got mad maths skillz, based on her scary-sounding tweets about her studies.
This year I'd be handing out copies of Ann Patchett's luminous novel State of Wonder, an involving, deftly-written and thought-provoking story concerned with nothing less than human limits in a scientific context. Disgraced US doctor turned pharmaceuticals researcher Marina Singh embarks on an investigation of a colleague's death in the Amazon rainforest and finds herself in a moral no man's land where scientific ethics, cultural integrity and spiritual truth have become entangled in surprising and often disturbing ways.
* * *
Zukiswa Wanner is the author of three novels, blogger, and literary activist. She started ReadSA in South Africa and her latest novel is Men Of The South.
This Christmas, there is only one book that is being given away by me, Thando Mgqolozana's feministic take on one of the oldest stories ever told in Christiandom, the story of the Virgin birth. In Hear Me Alone, Mgqolozana moved from being a brilliant South African writer to being a brilliant writer.I've read it over seven times and every time I read it, there is a fresh angle to make me giggle, laugh or sigh.
* * *
(Part 2 with more, more, more reading recommends to get you through the holidays will follow next week)